Lower Costs, Less Hassle And

More Savings 
Collecting payments shouldn't break the bank – TrustistTransfer helps you save.
The Smarter Payment Option

For Your Hospitality Business
Accepting card payments from your customers can result in unnecessary expenses and risks for your business. By choosing TrustistTransfer, you can not only reduce your transaction fees and subscription costs, but also protect your business and customers from the potential risks of fraud. We are committed to providing a secure and cost-effective payment solution for your business needs.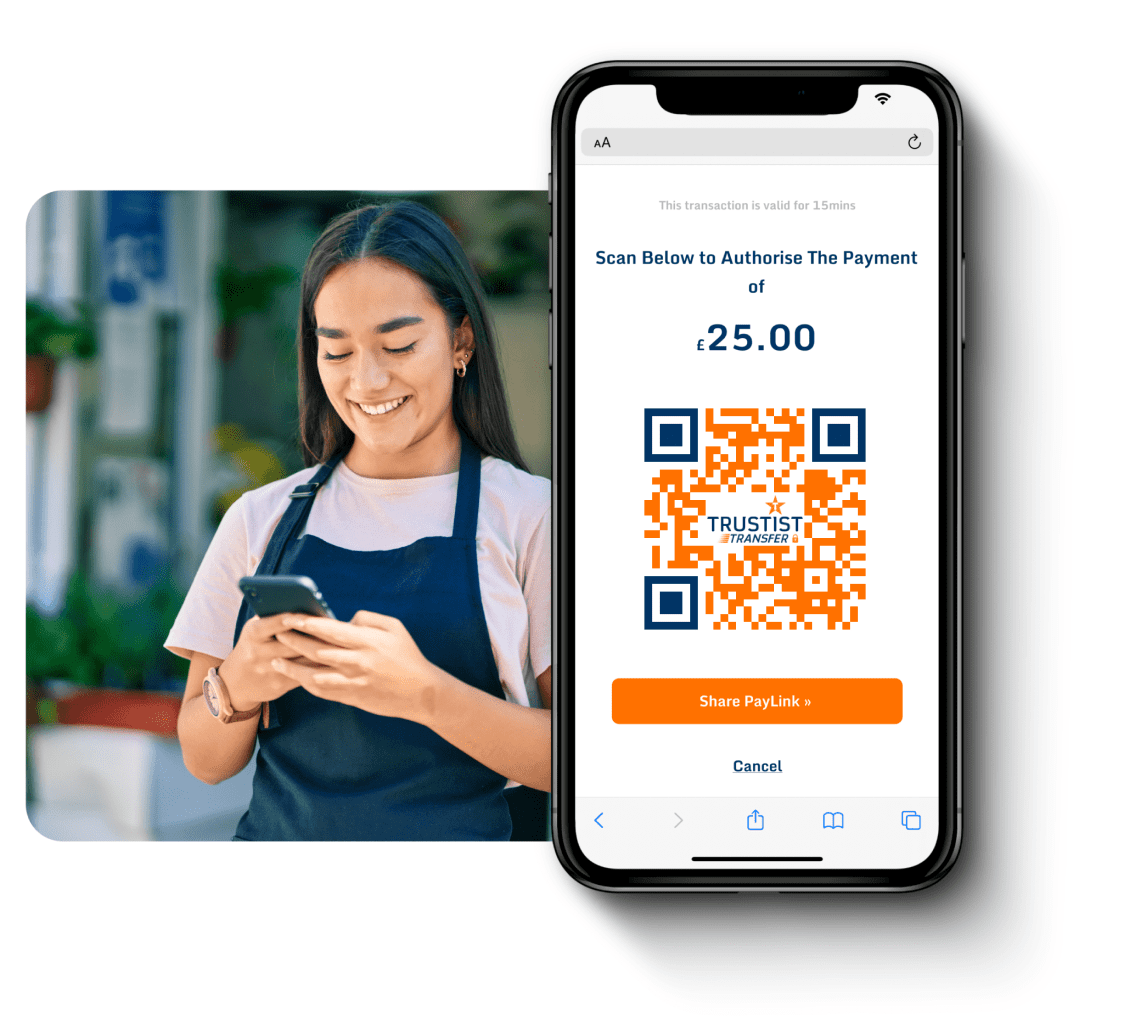 Enhanced Security
Your customers feel secure with the familiarity of using their own bank account.
Quick Payments
Get paid quickly with Faster Payments.
Safe Transactions
Enjoy the 0% risk of fraud and chargebacks.
Simplified Payments
Pay with ease without the need for credit/debit cards or sharing bank details.
Our lowest transaction fees of 0.29% are more than 90% cheaper than credit/debit card payments!
How TrustistTransfer Works For

Your Customers
Easily collect payments through your mobile phone or in person using a unique QR code, or send a PayLink for added convenience. Our user-friendly payment options make transactions quick and effortless.
Scan or Click
Your customer can either scan the QR code presented to them or click the PayLink that you send directly to their device.
Select Bank
Your customer will be directed to a screen where they can select the bank they want to pay with. After selecting they will be redirected to their banking app to approve the payment.
Confirm Payment
Now your customer can confirm the payment using Face ID, fingerprint, or banking password on their banking app and you'll get paid.
With four tiers of pricing, you can find the best option for you and your business.
How Much Could

You Save?
Use our cost calculator to see how much money you could save if you made the switch.
Average Number of Transactions per Month:
Average Order Value (in GBP):
Select a Payment Provider:
Cost per month with selected payment provider:
£0
Cost per month with TrustistTransfer Gold:
£0
Savings with TrustistTransfer Gold:
£0
What are you waiting for? Sign up today!